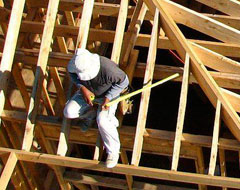 Meet Barry Publicover, a proud builder of quality local homes. With 30 years of solid expertise, he has built his reputation on trust, integrity and service - all to his many client's complete satisfaction. Having graduated at the top in his class from Dartmouth Vocational's two-year carpentry course, Barry's ambition was to be a builder. He worked in various areas of construction and as a third-year apprentice started his own framing crew. While framing houses for people trying to build their own homes, he recognized the need for a general contractor, someone who could not only frame the home, but look after the job from start to finish.
Securing quality sub-trades, especially in busy times, is virtually impossible for an individual building their own home, hence the beginning of Future Design Builders.
Relying on word of mouth as his only form of advertising, Barry recognized the importance of establishing and maintaining an excellent relationship between builder and client.